3 SSBC journalists released, 4 remain in detention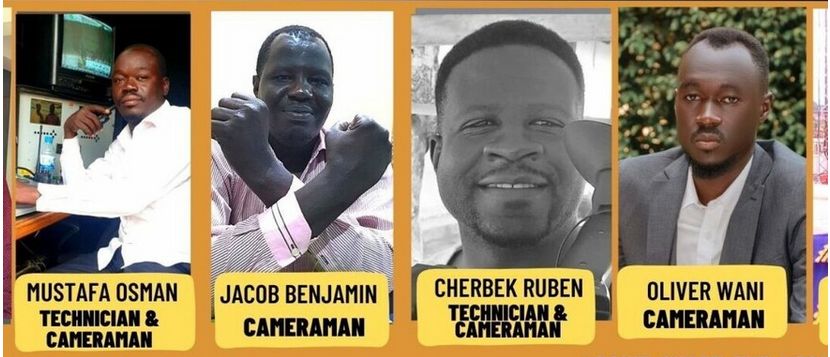 The National Security Service's (NSS) Internal Security Bureau (ISB) has released 3 South Sudan Broadcasting Corporation (SSBC) journalists who were arrested in connection with a leaked video that went viral which shows President Salva Kiir, 71, wetting his trousers at an official function last December.
The 6 journalists were arrested by the NSS operatives on 3 and 4 January before another SSBC journalist, Garang John, was also taken in regarding the same issue in late January 2023.
A lawyer who preferred anonymity due to the sensitivity of the matter told Radio Tamazuj that 3 of the journalists were released 2 weeks ago while the other 4 are still in detention and being investigated.
"3 journalists were released 2 weeks ago but the other 4 are still in detention," he said. "Those released are Joval Tombe, the control room director, Cherbek Reuben, the control room technician and Joseph Oliver a cameraman, while those still in detention at the Blue House are Victor Lado, a senior editor, Benjamin Jacob, Mustafa Osman, and Garang John."
Meanwhile, Oyet Patrick, the chairperson of the Union of Journalists of South Sudan (UJOSS) told this publication that he is following up on the case with a competent legal team so that scribes can be produced in court instead of being detained indefinitely.
"For close to two months now, we are following this issue and we now have a lawyer who is following the case. The lawyer is very committed and he has submitted a lot of requests to all the offices he has been told to," he said. "I would like to tell our colleagues (journalists) that we have never given up and we will never give up and we are following up the case until our colleagues are out."
Access to the detained Journalists denied
Oyet however said UJOSS, the lawyer, and the families of the detained SSBC staff have been denied access to them but hope that the lawyer will soon be granted contact.
"Up to now, we as a union have not had access to these colleagues (journalists), the lawyer has not had access to them also, but the lawyer is trying his best to meet them," he said. "Of course, there are challenges because this case now involves a lot of ministries and institutions and that becomes a challenge because you would need to write a letter to national security, the justice ministry, the information ministry, involve the media authority, and SSBC itself."
"Not having access to the detained journalists also makes it extremely difficult," Oyet added.
Meanwhile, the advocate said they have not been allowed to access their clients.
"We are still having challenges with the investigation and are not allowed to see them for now although the NSS said they are just holding the 4 journalists while waiting for the investigation committee to conclude their work. The committee is headed by Lado Wani, the undersecretary in the information ministry," he revealed. "We were in contact with the head of the committee and he told us that at this stage no lawyer is allowed to visit the detained SSBC staff. They can only allow family members but not a lawyer."
"We are trying to engage the justice ministry because there is no way you can deny a legal representative access to his client," he added.
A senior official SSBC told Radio Tamazuj Friday that they have nothing to do with the case and referred the publication to the ministry of information.
"If anybody wants any information, they should contact the ministry of information because SSBC has nothing to do with it," he curtly said.
When we contacted Ladu Wani, the undersecretary at the information ministry who is also the head of the committee investigating the detained journalists, he abrasively said the matter is administrative and has nothing to do with the press.
"First of all those journalists are under government care and administrative measures are ongoing and this has nothing to do with other media outlets," he starkly said.  "Those SSBC staff are government employees and so you have no concern about them. When they have been taken to court and or dismissed, then you can go and follow up. It is none of your concern. Those people (journalists) breached a contract with the government when they leaked information."
"This case still has nothing to do with the court and is an administrative investigation and if it is found that there is something that warrants them to be taken to court, then they will be arraigned," he added.