3 ambassadors, 4 governors take oath of office in Juba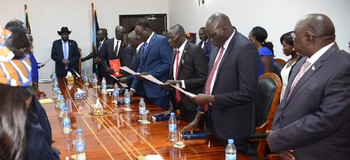 Three ambassadors and four state governors have taken oath of office after appointments by President Kiir on Monday.
The function was presided over by Kiir after it was administered by the country's Chief Justice Chan Reech Madut at the presidential palace.
Baba Medan Konyi, who was appointed as the new Deputy Minister of Labour replacement of David Yauyau, also took oath of office.
The new governors include Mangar Buong Aluenge for Eastern Lake, James Duer Chuol for Latjor State, Augustino Lako Bulli for Terekeka and David Yau Yau for Boma State.
The new ambassadors were Chol Tong Mayai, Monica Achol Aguek and Chom Juaj Bol.