21 dead in tribal clashes over cattle theft in Tonj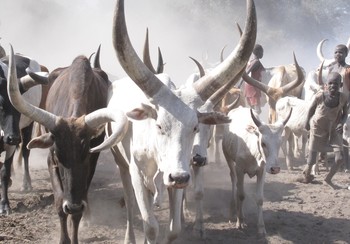 Cattle in Jonglei, South Sudan. (Credit: Oxfam)
At least 21 people were killed and 20 others wounded in tribal clashes over livestock in South Sudan's Tonj State on Friday and Saturday, a top state official said.
The fighting between members of the Thiik and Jalwau sub-clans took place shortly after President Kiir sacked the state governor and appointed a new official.
Speaking to Radio Tamazuj on Tuesday, The deputy governor of Tonj state Manyol Bol confirmed the incident, pointing out that 21 bodies from both sides were confirmed killed.
Bol explained that the fight was triggered by the issue of cattle raiding which he said remains the major challenges in the state.
"Members of the Thiik and Jalwau communities were fighting each other because of the issue of cattle, and this is not the first time," he said.
The official pointed out that security forces have been deployed to control the security situation in the area.
In December last year, at least 45 people were killed in clashes between members of the Thiik and Jalwau clashes.