200 fistula patients to undergo surgery in NBGS, patients optimistic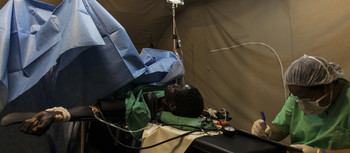 At least 200 women suffering from fistula will undergo corrective surgery in South Sudan's Northern Bahr el Ghazal State next week, according to health officials.
The fistula operation campaign was initiated by the national health ministry in Juba in collaboration with the state ministry of health in Aweil to improve the lives of mothers and young girls who are afflicted.
Speaking to Radio Tamazuj on Monday, the state health education officer at the ministry of health, Luka Lual Aleu, said the operations will take place next week and continue for twenty consecutive days.
"We have a fistula campaign which will be conducted next week. The campaign was planned by the national ministry of health in Juba; they will help us perform surgery on 200 fistula cases in greater Northern Bahr el Ghazal and parts of Warrap and Abyei and from other places in South Sudan if they can travel to Aweil,'' Lual said.
He noted that the surgery is free of charge, and patients and their caretakers will be taken care of during their stay in the hospital.
According to Lual Aleu, the campaign is being implemented by the American health agency, International Rescue Committee (IRC), and other partners including Médecins Sans Frontières (MSF), with funding from the United Nations Population Fund (UNFPA).
Patients who spoke to Radio Tamazuj have appreciated the government of South Sudan and its partners for initiating the fistula campaign in the area.
Achai Deng, a 40-year-old patient from Aweil North County hoped her surgery will be a success and said she has been suffering since 2009 when her baby died in her womb.
"I have hope in God and when such treatment happens, it means it is God who has all power who does it. We thank our government for bringing the doctors to treat us,'' said Achai Deng.
Anguet Ajaang, a teenager who is also a fistula victim, prays she recovers from fistula. She sys she has suffered stigma and discrimination because of her condition.
"I hope God in heaven helps me. If he helps me, it will be a good thing so that I will walk and there will be nobody to insult me again," Anguet Ajaang said. "I will walk with my friends in good health. It is two years and my urine flows without stopping."
Adhel Deng, a disabled woman, and the fistula patient said she has suffered for the past 13 years. She said she developed fistula during delivery. She said many people in the community shun and desert fistula patients.
"I only hope God gives me healing so that no one ignores me. This disease caused hatred against us, even siblings hate each other,''
Adhel Deng said.
An obstetric fistula is a hole between the birth canal and rectum or bladder that is caused by prolonged obstructed labor, leaving a woman incontinent of urine or feces or both.
According to the Ministry of Health, from 2006 up to date, over 60,000 obstetric fistula cases have been registered.