2 humanitarian health workers killed, 2 injured in Lakes State ambush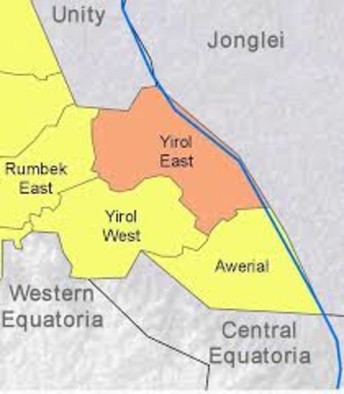 Authorities in Lakes State confirmed that two humanitarian health workers were killed and two others injured in a road ambush by armed criminals in Yirol West County on Monday.
Lakes State health minister Dr. Jacob Akuocpiir Acuoth speaking to Radio Tamazuj condemned the killing of humanitarian workers in the Agany area of Yirol West County.
"We are in sorrow because of the incident that happened to the humanitarian health workers. The assailants are not yet known but we are working with the county authorities to identify them," he said.
In a press release earlier today the Lakes state health minister wrote, "The ministry has learned with great sorrow, the killing of two health care providers in persons of Mr. Moses Maker, Nutrition Manager working with Africa CUAMM and Mr. Abraham Gulung Werwer, Driver, who were murdered yesterday 7 June at 5:30 pm by armed civilians between Aluakluak Payam and Mapourdit when on duty delivering nutrition stocks to far west Payam of Yirol West County."
He added, "I am disappointed as part of the State Authority for the violation of the rights of Health workers and urge all Health personnel working across Lakes to be more vigilant and adhere to the necessities; security and safety precaution."
The chief inspector of police in Aluakaluak Payam, Michael Mayor Malaak said the two humanitarian health workers were shot dead while the other women sustained injuries when the vehicle collided with a tree after the driver died.
According to Chief Inspector Malaak, the killings were to revenge the death of two armed criminals from Rumbek East County earlier yesterday.
He said the humanitarian health workers fell in an ambush while returning from Mapuordit Hospital to Yirol West County.
"It was in the morning when the armed cattle herders met at the border between Yirol West and Rumbek East Counties to exchange cattle and they started to shoot themselves which led to the killing of two youth from Rumbek East County," Malaak said. "This is the cause of the road ambush by the relatives of the deceased. To revenge by killing two humanitarian health workers."
The Payam administrator in Aluakaluak, Daniel Icho Dhieu, said the dead bodies were taken by the CUAAM Doctors with Africa and they will hand them over to their families.
He said that those injured were taken to Yirol Hospital for treatment.