2 foreign drivers arrested for separate fatal accidents in Nimule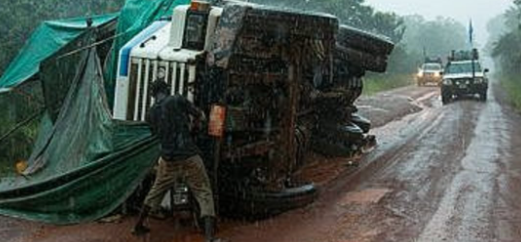 An accident scene in SOuth Sudan. File photo.
An Eritrean and a Somali driver were arrested in the border town of Nimule in Eastern Equatoria State on Monday for knocking and killing a man and woman in separate accidents respectively.  
A man identified as John Taban was knocked dead last Sunday by an Eritrean trucker along the Nimule-Mugali road while late Ayen Ding met her death after a trailer driven by a Somalia national knocked and killed her in Nimule town on Monday 
Major Juma George, the director of traffic police in Nimule town council, told Radio Tamazuj Tuesday that an Eritrean national identified as Woldo Kobasio driving a truck with registration number SSD 218 E knocked and killed Taban on Sunday.
He added: "In this accident where John Taban died, the suspected driver is an Eritrean driver named Woldo Kobasio, driving vehicle number SSD 218 E, and they were going to Abila to collect gravel but found the late motorist there and knocked him." 
He added: "On the second day (Monday), there is a woman who was knocked dead at around 1 pm. Her name is Ayuen Ding Dut. The suspect (driver) is Ahmed Hamed from Somalia and the number of the vehicle he was driving is KAS 949 D. this is what happened inside Nimule town."
Maj. Juma said both drivers are in police custody ad that the families of the deceased will be compensated by the drivers with the help of the legal prosecutor as is the practice in Nimule town.
The police inspector in Nimule town, Maj. David Khasmiro confirmed the accidents. 
"Yes there is a vehicle of one person who came from Mugale Payam and a vehicle knocked him and broke his leg and due to bleeding, he died before reaching the hospital," Maj. Khasmiro said. "This incident happened on Sunday. The driver was arrested and is currently in police custody." 
Bol Kwir Agwer, the Dinka chief in Nimule town urged the traffic police to rein in drivers to reduce the rampant accidents in the town. He said the late Ayuen's body was taken to Juba for burial. 
"I heard about this incident this (Tuesday) morning, the woman called Ayuen was knocked by a Somali national. Her body was taken to Juba," Chief Kwir said. "These accidents are in the hands of the government, the police traffic has to reduce them."