2 abducted women killed, 1 released on ransom in Nimule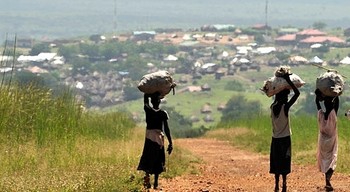 Unknown gunmen have reportedly killed two South Sudanese women they kidnapped from Nimule town on Saturday night and freed another woman who was also kidnapped on Saturday evening after her family paid an amount of $1,000.
It is learnt that police authorities in Nimule town started investigations into the incident after the woman was released today morning.
The released woman, Debora Apiok, told Radio Tamazuj this afternoon that she was kidnapped from Nimule town and taken to the bush by unknown men who were driving a private vehicle with tinted windows.
"When we stopped somewhere in the bush I found other people who were also kidnapped. I found a pregnant woman and a mother with her child, afterward, one of the kidnapers killed the pregnant woman, and then cut her baby out of her stomach around 10 pm," said Debora.
"I was spared together with the other woman with her child. The kidnappers later came and asked us to talk to our families in town to pay a ransom so that we could return back unharmed. I talked to my husband to send them money because they demanded $1,000. The woman who was together with me was stabbed to death because she said she didn't have a telephone to talk to her family and that was around 11 pm. The child remained with the kidnapers," she added.
Debora pointed that she was released today by her kidnappers after a ransom was paid, adding the case was reported to the police. "The case has been opened, but the police have not gone to the scene of the incident," she said.
Debora's husband Michael Jok confirmed the incident, saying his wife was released unharmed after he paid a $1,000 ransom.
There was no immediate comment from Nimule authorities or officials in Imatong State.