16 killed, 8 wounded in Tonj East cattle raid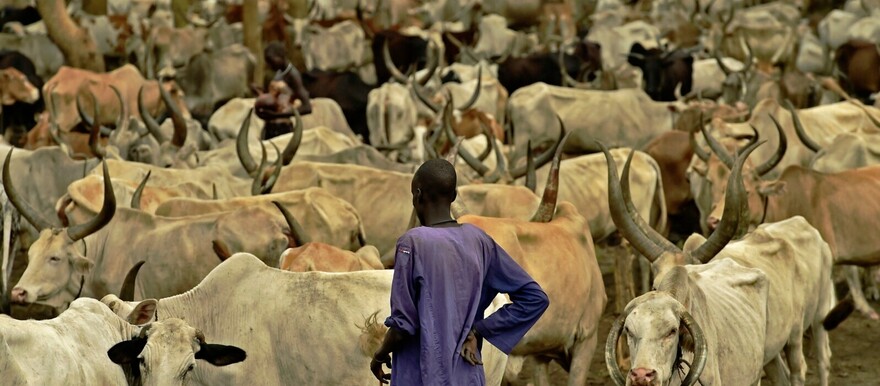 A herder stands at a cattle camp in Toch, Warrap state, South Sudan, April 24, 2016. [Photo: AFP]
About 16 youths were killed, eight others wounded and an unknown number of cattle raided in Tonj East county of South Sudan's Warrap State on Tuesday, authorities said. 
John Deng Kok, Tonj East County Commissioner, told Radio Tamazuj on Wednesday that a group of armed youth suspected to be from the Luany-Jang section attacked the Panyan-Bech cattle camp leading to casualties on both sides. 
"Today is the second day of fighting. It was caused by 14 armed criminals who mobilized themselves from Luany-Jang and attacked the Panyan-Bech cattle camp and 16 youths were killed in the fight. Nine from the attackers and seven from the cattle camp youth," he said
He added, "Five youths were wounded from the cattle camp youth and three were also wounded from the attacking youth but they (attackers) ran away with an unknown number of cattle but the forces are pursuing them."
Commissioner Deng who said he was in Wau for medical reasons indicated that he was still collecting further information regarding the attack. 
Moses Madot, Tonj East member of parliament for constituency number 25 also in Warrap state assembly confirmed the incident.
"The fighting occurred yesterday at around 4 o'clock South Sudan local time where youth from Luany-Jang attacked the cattle camp of Panyan-Bech which comprises of the sections of Baac, Ador, Pagor, and Jal-Wau and fighting resulted in the killing of 16 people and eight others were wounded. The number of cattle was not known," he affirmed.