14 killed in clashes between SSPDF and civilians in Tonj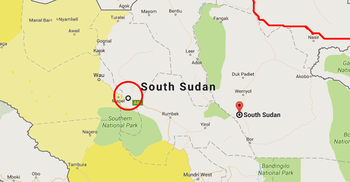 About 14 people were killed and nine others injured last Friday when the army and civilians clashed in Ngapagok County of South Sudan's Tonj State.
Tonj state information minister William Wol told Radio Tamazuj on Monday that the cause of the clashes between the SSPDF soldiers who were conducting disarmament and civilians remains unknown.
"Two civilians and 12 soldiers of the SSPDF were killed in the clashes. Nine people were injured, five soldiers and four civilians. The soldiers were part of a disarmament force in the area but the cause of the clashes has not been determined," he said.
Wol further said that a committee comprising the state security advisor has been sent to the scene to investigate the matter.
He added that there is calm after state authorities intervened to contain the clashes.
The official applauded the state government for passing the Small Arms Bill, which he says inhibits the possession of small arms by civilians.
"I want to urge the neighboring states to do the same and disarm the civilians. This is the main problem in our states," he appealed.