13 killed in fresh clashes between gov't and rebels in Bieh State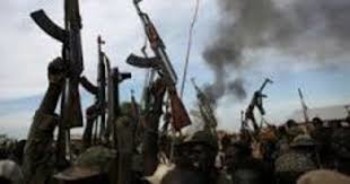 File photo: Rebel fighters hold up their rifles as they walk in front of a bushfire in a rebel-controlled territory in Upper Nile state, South Sudan Feb. 13, 2014.
South Sudan's rebels in Bieh State say at least 13 people including children were killed after government forces attacked villages of Muodiit and Tharkwer Gwanyabiel areas of Greater Uror County on Monday.
Rebel-appointed Bieh State information minister John Daniel told Radio Tamazuj on Tuesday that government forces from Yuai town launched attacks on Monday morning and burned a school, killing 13 people including 4 children. He said 4 other children went missing.
Daniel accused government forces of carrying out attacks on rebel positions despite the cessation of hostilities agreement.
For his part, SPLA military spokesperson Lul Ruai Koang confirmed to Radio Tamazuj on Tuesday that clashes broke out in Muodit area on Monday evening.
"Yes, there is a problem that happened at night in Modiit, but according to the reports we have so far we do not know the people who are fighting," he said.
Ruai also revealed that 2 SPLA soldiers were killed near Yuai town but denied any confrontations between the government forces and rebels in Bieh state.