12 officials abandon Machar, join SPLM-IO splinter group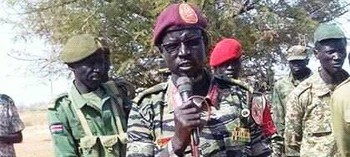 Photo: Major General James Ochan
A group of 12 SPLM-IO officials on Friday declared allegiance to Major General James Ochan Puot, a former commander who defected from opposition leader Riek Machar.
General Ochan, who was deputy commander of the SPLA-IO's division 5, announced last week that he had defected together with other military officers from Machar to join President Salva Kiir's government. The defection came after fighting between SPLA-IO troops and members of the Cie-waw community in Maiwut State.
The 12 officials, in a statement extended to Radio Tamazuj, said the SPLM-IO forces often targets civilians. "Therefore, General Ochan's action was to protect the civilians and their properties from the SPLM-IO army assaults on the town, and to bring to an end the hostilities by aligning with Juba," the statement reads in part.
"He [Ochan] was doing so to give peace a chance and to expeditiously endorse the Khartoum Peace Agreement through R-ARCISS, but not under Dr. Riek Machar Teny who has allowed his army to terrorize the civilians on his watch," the statement added.
The 12 defectors include Gatdet Bol Bangoang, Reat Nhial Tuany, Khon Kueth Mar, Riang Ruey Dup, Ruey Yoa Yat, Jacob Both Dat, Tor Dojiok Gach, Chuol Bur Tang, Dep Nhial Tuany, Nyayak Lul Duot, Marol Wichduel Deng and Malakal Deng.
In an interview with Radio Tamazuj, Col. Reat Nhial Tuany, the SPLM-IO representative to Nigeria confirmed his defection from Machar.
He cited the deteriorating security situation in Maiwat State as the main reason why he and 11 others joined the SPLA-IO splinter group.
"We were not happy with the action taken by the SPLM/SPLA-IO when they attacked Maiwut center and in that attack, a lot of civilians were displaced from the town and that is the reason we decided to support James Ochan in the transitional military council," Reat said.
South Sudan's President Kiir, opposition leader Machar and other opposition groups, entered into a peace accord last September. Kiir and Machar agreed earlier this month to accelerate the agreement prior to the formation of the transitional government on November 12.