12 juveniles' court case adjourned in Juba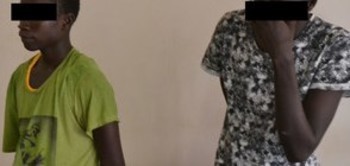 File photo: Two young men sentenced to prison for raping a 17-year-old girl in Juba on March 26, 2018. (Radio Tamazuj)
A Juba court has adjourned the case of 12 juveniles accused of murder to June, a lawyer said.
The accused juveniles from Walalang village in Jubek State are alleged to have murdered their fellow teenager from the village of Tigri during a fight between two groups of juveniles from the two villages. Teenagers from the Tigri village were accused of starting the fight on 6 February.
Godfrey Victor Bulla, executive director of the Justice and Human Rights Observatory (JAHRO), a group offering legal aid for free to those who cannot afford the services of a lawyer, said the court session scheduled for May was adjourned to June 19.
The 12 juveniles between the ages of 13 and 17 are being confined in the main prison in Juba.