11 captured govt officials escape from rebel detention center in Akobo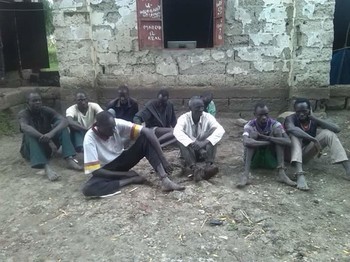 A government official allied to the country's First Vice President Taban Deng Gai said he and other 10 officials managed to escape from rebel detention centers in Akobo state.
In September 2017, rebels loyal to the former First Vice President Riek Machar had captured 14 government officials including a county commissioner in Akobo.
David Tut Chai, Jokyier County commissioner, told Radio Tamazuj on Thursday that they had escaped from rebel-held territories in Akobo on 21 December 2017 after breaking down the door of the jail.
"We managed to escape. No body released us from detention, and we didn't agree with anyone within the rebels to set us go. We were handcuffed, so it took us time to set ourselves fee," he said.
He pointed out that they went to the town of Waat.
But John Daniel Bol, the rebel-appointed secretary for information in Bieh State, claimed the government officials were allowed to move freely after the signed ceasefire.
He admitted that the government officials escaped. "After we granted them free movement, they decided to escape and crossed to government positions. Actually they did not break the jail," he said.
South Sudan descended into civil war in 2013, only two years after independence, when Kiir removed his deputy, Riek Machar.
Machar is being held in South Africa to prevent him from going back to his country. The decision was reportedly reached by IGAD countries in order to keep him away in the hope of preventing fighting in the country.