10 people briefly arrested for not attending pro-32 states rally in Rumbek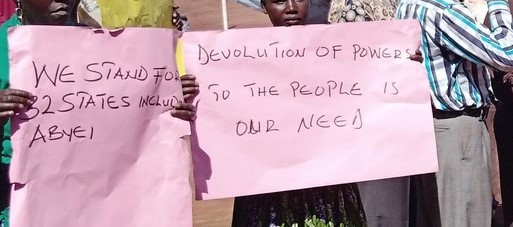 At least 10 people including four local journalists working for Radio Rumbek 98 FM were briefly arrested by security agents for not attending pro-government demonstrations.
On Wednesday morning, protesters believed to have been mobilised by the state authorities in Western Lakes State took to the streets in Rumbek town demanding that the current 32 states plus Abyei area be maintained.
With a February 22 deadline fast approaching for South Sudan's government and opposition groups to form a unity government, there is still no deal on how many states the country should have or their internal boundaries.
The opposition insists on a return to the original 10 states or 23 states based on colonial boundaries, while the government supports the current 32 states.
A credible source told Radio Tamazuj that four journalists were picked up from the radio station by the security shortly after the rally kicked off in Rumbek town.
The four local journalists were identified as Yang Ater Yang, Mary Ateny Manguen, Raaneban John and Abraham Marin.
The source further said six other people were also briefly arrested by the security while sipping tea in the radio station's compound.
Another source said the four journalists were released from the National Security Service (NSS) custody in the area of Makoi after 30 minutes of questioning.
Abenego Malual Makuei, Director of the Radio Rumbek 98 FM, said he had no information on the reported arrests when contacted by Radio Tamazuj.
South Sudan's National Security Service (NSS) has broad powers of surveillance, arrest and detention.