1 dead, 3 wounded in Aweil East attack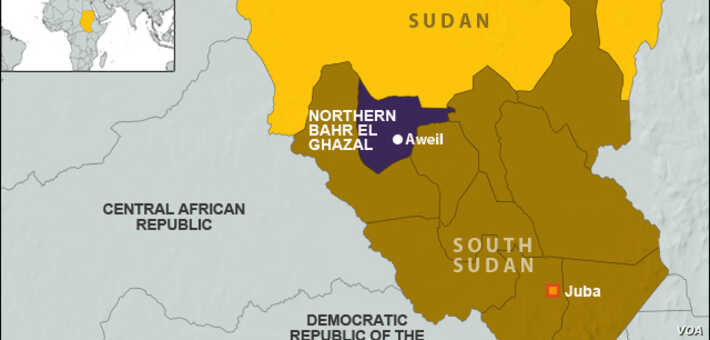 At least one person was killed and three others wounded after gunmen attacked people in the Mabior Padolmot area of Malual-bai Payam in Aweil East County of Northern Bahr el Ghazal State, police confirmed yesterday.
Aweil East police commissioner, Lt. Col. Deng Chier, said that suspected Misseriya gunmen from Sudan attacked the village on Monday morning around 9 am killing one Arop Akot.
"The Arab nomads came and attacked people at Mabior Padolmot, this was yesterday (Monday) at 9 am. They came from the side of Mairam. Of course, they are Misseriya. That is the region where they come from,'' Col. Chier said.
He added that a young man who sustained gunshot wounds and a girl who was badly beaten are admitted to Malualkon hospital, and a mother and her three children are still missing.
"When the news came to us now, we went there and found one person called Arop Akot shot dead. The people are still searching for survivors who will then narrate what happened," Col. Chier said.
Ibrahim Marek Satur, a local representative of the Misseriya, said his people might have attacked to avenge the death of one of their members, Mohammed Al-Digel Al-Akabash, who was murdered by Dinka Malual on 5 February 2021.
"In the beginning, on 5 February on the closure of the peace conference, one person died from Misseriya, he was among the people who used to collect the gum. Anyway, people moved from this side and killed him. He is called Mohamed Al-Digel Al-Akabash, he was an old person," Marek explained. "Information came to us telling us these (Dinka) people have killed a Misseriya and we reported the case and the people were not arrested. Maybe the family was frustrated and carried out the attack."
However, Marek said they have contacted their Misseriya sub-tribe, Awlad-Kamil, to suspend the aggression and wait for the upcoming peace dialogue between them and the Ngok Dinka scheduled for 22 February. He urged both communities to tackle every issue peacefully.
Dr. Riing Yak, the Aweil East County health director who doubles as the Malualkon hospital boss confirmed that the hospital admitted one patient with major injuries on his right hand. According to him, there were no other patients admitted as a result of the ambush.
The Northern Bahr-el-Ghazal's peace and reconciliation commissioner, William Kolong Pioth, said the police and a team from the peace committee were dispatched to bring accurate information on the incident.
"Yes, there is such information but the information is not complete. The police were sent there by the police commissioner to give us full information on what happened,'' Kolong said.
Kolong said the South Sudan People's Defence Forces in Northern Bahr el Ghazal had been directed to hunt down the suspected killers of the Misseriya man and bring them before a court of law, but no arrests had been made so far.
A peace conference between Dinka Malual and Misseriya just concluded earlier this month with resolutions of maintaining peace, monitoring crime, and payment of blood compensation in case of murder.