Military instructors graduate in Luri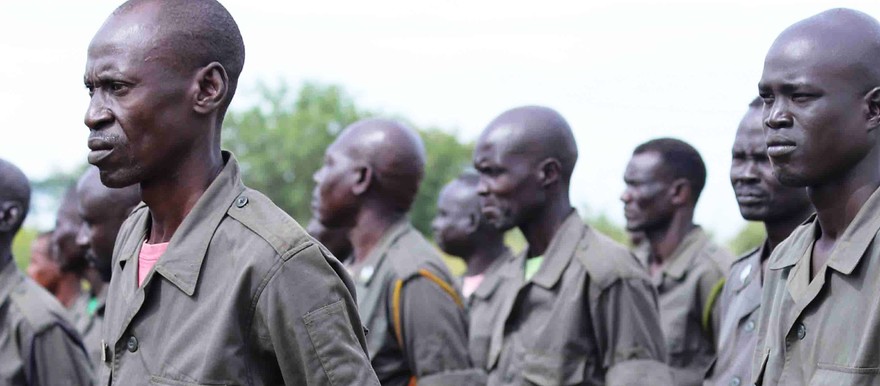 Military instructors drawn from government and opposition forces graduate at the Luri military facility on 4 September, 2019 (Radio Tamazuj)
1,000 military instructors drawn from the government and opposition groups have graduated after a 10-day course in Luri, 20 kilometres outside Juba.
The soldiers will become trainers of the necessary unified forces in cantonment sites and military barracks before the formation of the unity government on November 12.
Speaking during the graduation ceremony at the Luri Military Training Centre on Friday, South Sudan's presidential adviser on security affairs and NPTC chairperson, Tut Gatluak urged the military to shun tribalism.
"We don't want the army to be divided along tribal lines, we are one nation," he said.
Gen. Rin Tueny Mabor, the head of the Joint Transitional Security Committee (JTSC), said the graduation of the instructors is a key part of the security arrangements.
"This is the beginning of peace implementation. As you graduate today, the work has officially started to train our unified forces, so your tribe now is the people of South Sudan," Mabor said.
The top army general pointed out that the graduation of the instructors demonstrates commitment of the South Sudan parties to the peace process.
UNMISS Force Commander Lt. Gen. Shailesh Tinaikar urged the instructors to work together for the sake of South Sudan. "I implore you to be conscious of your actions to see that the training that you impart is of the highest standard," he said.
"Your training period was very short but you have a huge responsibility. You will be responsible for the training of the unified forces of South Sudan, so you have to forget your past," he added.
Signatories to the revitalised peace deal have missed IGAD's September 30 deadline to have half of the 83,000 unified forces trained and deployed.
Creating a unified army and determining the number of states and their boundaries remain the biggest challenges in the peace deal.