Yei chiefs 'demand for federalism'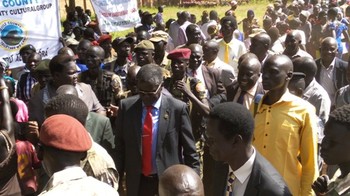 Chief and community elders of South Sudan's Yei River State said their people 'demand for federal governance,' a system in which sovereign powers are divided between federal and state governments.
The traditional leaders said this on Tuesday during a meeting with President Kiir's adviser on special affairs Clement Wani Konga who is now in the area to carrying out consultations on the national dialogue process.
The community leaders said that the people of Yei are demanding for federalism. They explained that this would entail a devolution of powers from the national to the state governments, while criticizing the current leadership style.
The elders also blamed the ruling SPLM party led by President Kiir for allegedly promoting poor leadership without the rule of law.
The transitional leaders emphasized the importance of peace and stability for the sake of development in the country.