Torrential rains cut off Bor-Twic East road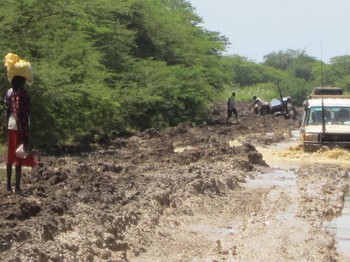 The Bor-Twic East in South Sudan's Jonglei road has been cut off by heavy rains, affecting transports between the two areas, a local official said.
Majok Jok Reng, Chairperson of Drivers' Union, told Radio Tamazuj on Friday that the bad condition of road could affect movements of many people, explaining that a journey that used to take few hours now is taking drivers two days to reach.
"Yes there are no vehicles today (Friday) travelling to Twic East this morning because of bad condition of road after heavy rains," Jok said.
However, he said that despites bad roads, some passengers use military vehicles. Jok further said the average fare to Twic East from Bor town is between 2, 000 to 2,500 South Sudanese Pounds.
A passenger, who came from Twi East, told Radio Tamazuj he had to walk by foot for four days to reach Bor because the road was unusable by vehicles.