Sudan's Bashir to visit Uganda today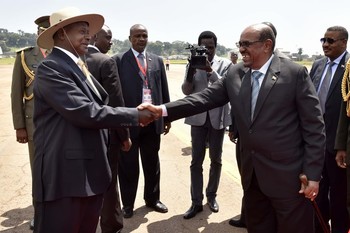 Sudan's President Omar al-Bashir, who is wanted by the International Criminal Court for alleged war crimes, is scheduled to visit Uganda today, the official news agency reported.
The state-owned news agency SUNA reported that President Bashir's visit comes in response to an invitation by Ugandan President Yoweri Museveni.
It added that al-Bashir and Museveni would hold talks on bilateral ties and means of enhancing relations as well as regional and international issues of mutual concern.
It was not immediately clear what led President Museveni of Uganda to invite President Bashir. The relations between the two countries have recently improved after tensions for many years.
The Sudanese leader will be accompanied by a high-level delegation which includes the ministers of the presidency, foreign affairs, trade, the director of the national security and the director of the president's office.