SPLM-IO dismisses Kiir's amnesty offer for Machar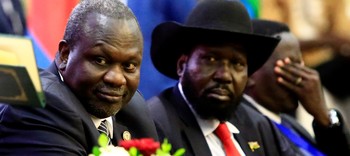 The main opposition group, the Sudan People's Liberation Movement-In-Opposition (SPLM-IO) has scoffed at President Kiir's offer of general amnesty to his rival Riek Machar.
President Kiir on Wednesday granted amnesty to opposition leader Riek Machar and all estranged groups days after signing a peace deal in Khartoum.
SPLA-IO deputy spokesman Paul Lam Gabriel told Radio Tamazuj on Thursday that Kiir's amnesty offer was irrelevant now that the two sides had already signed a peace agreement.
"Salva cannot grant amnesty to Dr. Machar. The peace agreement has already been signed, so we will go to Juba because of the agreement, not the amnesty offer," Lam said.
"Salva should instead seek for forgiveness from the people of South Sudan because many people were killed in Juba in 2013 and 2016," he added.
Lam pointed out that President Kiir should have released all political detainees and war prisoners instead of the amnesty offer.
The group's statement shows the deep mistrust between the two warring parties.
As part of the new peace deal signed over the weekend, Kiir will continue as president during the transitional period and Machar will return to the capital as the first vice president, one of five vice presidents.