Peace conference between feuding Misseriya clans in Babanusa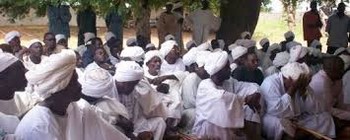 A three-day peace conference between the feuding Awlad Omran and Awlad Surur clans of the Arab Misseriya tribe kicked off on Saturday in Babanusa town in Sudan's West Kordofan State.
The two Misseriya clans have been in dispute over grazing lands since 2014.
Speaking to Radio Tamazuj on Sunday, head of the peace and reconciliation committee in West Kordofan expressed the optimism about the ability of the two sides to reach peace.
The conference was organized by organized by the Supreme Council for Social Peace and Reconciliation in the State in collaboration with the United States Agency for International Development (USAID).