Govt plans to renovate Upper Nile University buildings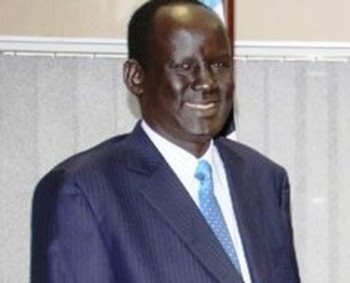 File photo: Minister Yiem Oral Lam
South Sudan's Minister of Higher Education Yien Oral Lam says the government in cooperation with the Japanese government will soon start renovation of the Upper Nile University which was vacated when conflict erupted in Upper Nile in 2013.
Yien who is on an official visit accompanied by the Japanese ambassador to Malakal told Radio Tamazuj on Wednesday that they are on a mission to assess the level of destruction at the institute of higher education, with the aim of relocating the university back to Malakal and Renk.
"We want to see the buildings of the University of Upper Nile. Upper Nile University was the main centre in Malakal, and there are other faculties in Renk. In 2014, during the conflict the university was temporarily relocated to Juba and now we are planning to bring back the university to its original location," the minister said.
"We succeeded to ask the Japanese government to help us in the renovation of the university's buildings in Renk and Malakal," he added.
Minister Yien noted that a team of engineers will arrive in Malakal next week to begin the renovations which are being funded by the United Nations Development Programme and the Japanese government.