Aweil authorities release 15 detained butchers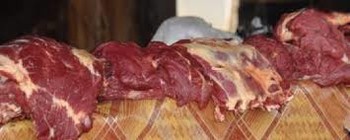 The Aweil Town Council on Tuesday released 13 butchers who were briefly arrested for raising meat prices at the market recently.
Last week, authorities in Aweil town asked all local butchers to reduce high prices of meat that were fixed without any approval from the council.
Speaking to Radio Tamazuj on Tuesday, Simon Tong Deng, Mayor of Aweil town, confirmed the arrest of 15 butchers, adding that the butchers were released after being fined.
The mayor urged the butchers across the state to respect local orders. "If the butchers repeat fixing the same prices, we will jail them for three months in Aweil Central Prison," he said.
For his part, the chairperson of butchers' union, Gordon Majok, said they sell meat at high prices because the prices of cows and goats are also very high.
Gordon thanked the police for releasing them.