Three SPLM factions announce reunification in Juba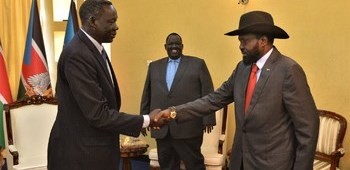 Three factions of the Sudan People's Liberation Movement (SPLM) have announced the formal reunification of their ranks in the capital Juba on Wednesday.
The Sudan People's Liberation Movement (SPLM) is the governing party of South Sudan initially founded as the political wing of the Sudan People's Liberation Army which fought for South Sudan independence.
The SPLM fractured into different groups after the civil war erupted in December 2013.
Peter Lam Both, spokesman of the SPLM faction led by President Salva Kiir, said in a statement to state media that two SPLM factions rejoined the ruling party in Juba.
Those who announced the final phase of the reunification process include the SPLM faction loyal to President Salva Kiir, another faction that calls itself the SPLM-IO which is led by first vice president Taban Deng Gai, and a third group made up of senior party officials who were detained when the civil war erupted in 2013.
"Three groups of the SPLM which are the SPLM, SPLM-FDs and the SPLM-IO have reunified, so we have one SPLM now, "Lam said.
He added that the formal announcement of reunification came after meetings held by the three groups in the capital Juba.
According to the party spokesman, the reunification deal says SPLM members who were dismissed from the party's highest organs by President Salva Kiir when the conflict erupted will return to the posts they once held.
"There is also a recommendation to keep the Political Bureau which is consisting of 19 members. It has to be kept as it is, and the additional 16 members that the Arusha Agreement calls for, will be allocated by the SPLM when the chairperson of the party convenes the Political Bureau meeting with the 19 members," he said.
"All the positions that are vacant on all sides whether SPLM or SPLM-IO or the FDs, must be filled immediately and that those who may not be around will be given a specific timeframe to return to their respective positions, at least after one month," he said.
"After the organs of all the parties meet, they will then sit down as one SPLM to structure the SPLM national secretariat, so I think this is good news for the people of South Sudan because the SPLM has finally come together," he added.
A faction of the Sudan People's Liberation Movement-In-Opposition (SPLM-IO) led by South Sudanese opposition leader Riek Machar was not part of the reunification process announced in Juba.
In September 2018, a peace deal was signed by South Sudan's President Salva Kiir, main opposition leader Riek Machar, SPLM-FDs and several armed groups in the Ethiopian capital, Addis Ababa.
However, much remains to be accomplished before a new unity government is formed in May.