SPLM reunification undermines peace pact, says Machar's group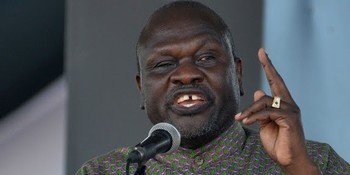 South Sudanese opposition leader Riek Machar gives a speech at the John Garang Mausoleum in Juba, October 31 2018. Picture: REUTERS/JOK SOLOMUN
The SPLM-IO faction led by South Sudan opposition leader Riek Machar has denounced the reunification of the country's ruling party, saying the move undermines the peace deal.
On Wednesday, three factions of the Sudan People's Liberation Movement (SPLM) announced the formal reunification of their ranks in the capital Juba.
Those who announced the final phase of the reunification process include the SPLM faction loyal to President Salva Kiir, another group that calls itself the SPLM-IO which is led by first vice president Taban Deng Gai, and a third faction made up of party officials who were detained when the conflict erupted in 2013.
Mabior Garang, eldest son of late John Garang de Mabior, founder of the South Sudanese ruling party, the Sudan People's Liberation Movement (SPLM), told Radio Tamazuj Thursday that the reunification of the governing party is not a priority for the people of South Sudan.
The SPLM fractured into different factions after the civil war erupted in December 2013.
Mabior, who is the official spokesman of the opposition SPLM-IO faction led by Riek Machar, said implementation of the revitalised peace agreement should be the top priority of all peace partners instead of the reunification process.
"The purpose of SPLM reunification now is to undermine peace because the peace agreement involves many factions," he said.
"If we become one SPLM now, how can we implement the peace agreement that involves many factions and groups?" he asked.
According to Mabior, the three SPLM factions were supposed to focus on reforms stipulated in the revitalised peace deal instead of reunifying their ranks. He said the ruling party has failed to become responsive to the needs of the South Sudanese people.
"SPLM is against democratic processes. We believe that the peace agreement is the only viable program that can build our country because our security and economy need to be fixed," he said.
In September 2018, South Sudanese President Salva Kiir and opposition leaders, including Riek Machar, signed a revitalised peace deal promising an end to the five-year conflict.
Under the deal, Machar will be reinstated as first vice president with a transitional government to be established in May 2019.