South Sudan diplomat welcomes new UNISFA mandate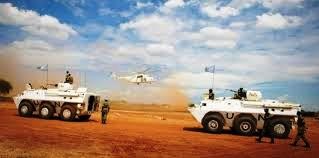 A South Sudanese diplomat has welcomed the United Nations Security Council's decision to renew the mandate of its peacekeepers in the disputed region of Abyei.
The Council decided on Friday to extend the mandate of the UN Interim Security Force for Abyei (UNISFA) until October 15.
The Resolution 2465, which won unanimous support in the 15-member council, further decided that this shall be the final extension unless Sudan and South Sudan, which are contesting the territory of Abyei, "demonstrate measurable progress on border demarcation."
"We would also like to recognize the tireless efforts of the Government of the Federal Democratic Republic of Ethiopia, the United Nations, AUHIP as well as the Sudan for the positive collaboration demonstrated in the realization and the need for UNISFA's support of the work of the Joint Border Verification and Monitoring Mechanism (JBVMM)," South Sudan's Charge d'Affaires to the UN, Ambassador Cecilia A.M. Adeng, said in a statement.
Progress, she said, has been made in the disputed area and commitments to continue implementing the mandate is evident.
"We would like to reiterate that we, the Government of the Republic of South Sudan and the Government of the Republic of Sudan, together with the support of the regional community have been working endlessly towards achieving the current positive regional developments to reassure the communities in the Abyei area that a satisfactory solution will be found soon," Adeng told the Council.
The Security Council first modified the UNISFA mandate in December 2011 to add tasks of supporting a Joint Border Verification and Monitoring Mechanism of Sudan and South Sudan.
Resolution 2465, however, decided that the authorized troop ceiling for UNISFA shall drop by 557 troops, unless it decides to extend the mandate modification again.
According to the South Sudanese diplomat, the Joint Border Commission (JBC) and the Joint Demarcation Committee (JDC) are scheduled to hold a series of meetings in April, June, and July.
"This renewal [of the mandate] should add to what has been achieved thus far through steps established by the JPSM [Joint Political and Security Mechanism," she stressed.
UNISFA was approved on 27 June 2011 by the United Nations Security Council in United Nations Security Council Resolution 1990.