Returnees and refugees in Lasu payam need aid: official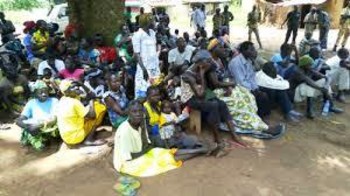 Lasu Payam returnees sitting under a mango tree [Gurtong photo]
Thousands of internally displaced persons and Congolese refugees who arrived at Nyori resettlement camp in South Sudan's Yei River State lack access to humanitarian assistance, a local official said on Wednesday.
The settlement camp is located within Lasu payam in Otogo County.
Julius Taban, an assistant commissioner at the state commission for refugee affairs, told Radio Tamazuj that 100 refugee households and 1,688 returnees are living in Nyori refugee settlement and under trees in Lasu payam.
He said those affected are mainly women, children and the elderly.
"The figures of individual refugees and returnees are 10,000 who came back from Congo because of relative peace and stability in Yei River State and they are in Lasu refugee settlement," said Taban.
He said the conflict-displaced families and the returnees urgently services.
Taban further said the commission is financially handicapped to extend support, urging humanitarian organizations in the state rescue the situation.
"We are requesting humanitarian organizations to come to our rescue because there are many vulnerable people who have returned and have nothing to eat, nothing to sleep on and many other things. We have seen them, they are suffering and need support as soon as possible before heavy rains start," he stressed.
Located about 45 kilometers from South Sudan's border with the Democratic Republic of Congo (DRC), Lasu payam hosted Congolese refugees who fled the Lord's Resistance Army (LRA) insurgency and Sudanese refugees who left Nuba Mountains due to insecurity in 2010, before South Sudan's conflict worsened in 2016.