Peace deal unlikely to hold, warn Catholic bishops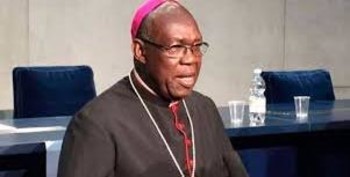 Photo: Archbishop Paulino Lukudu
"While people welcome the signing of a peace agreement, there is a sense of hopelessness that this agreement, like so many before it, will not succeed," the metropolitan archbishop of Juba said.
Archbishop Paulino Lukudu Loro said this after the South Sudan Catholic Bishop's Conference which lasted for three days concluded in Juba on Thursday. The Catholic bishops addressed the media after their meeting.
Lukudu said the concrete situation on the ground demonstrates that the revitalised peace deal is not addressing the root causes of the conflict.
"We fear that our leaders on all sides have other hidden agendas," he said.
The religious leader further said the revitalised peace accord encourages political leaders to bargain over positions and percentages rather than working for the good of the young nation.
"While funds are spent on the military and corruption continues amongst the elite, ordinary people face hardships as the economy continues to collapse around them," he said.
He pointed to unfinished or partially implemented provisions in the peace deal, saying the implementation process is far behind schedule.
According to Lukudu, Catholic bishops fear that this revitalised peace pact is "fatally flawed in itself and cannot bring true peace in South Sudan."
"We also fear that the current leadership does not have the will to implement peace," he said.
The archbishop stressed that fighting was supposed to end with the signing of the peace deal last year, but violence continues in many areas and the humanitarian situation remains bleak.
"While there is a great deal of talk about peace, actions are not matching words," he said.
Lukudu warned that one of the key drivers of conflict is the number of states and boundaries between ethnic groups in the country.
The church leader advised President Salva Kiir to constructively engage all stakeholders and parties to the peace deal to ensure that each party fulfills what it agreed to do in signing the revitalised deal.
"The value of traditional leaders and chiefs must be recognised and factored into the implementation process through various confidence-building mechanisms," he said.
The national dialogue process, the archbishop added, can be instrumental to the implementation process, but it should be genuine and inclusive.
The clergyman called on the parties to release the remaining political detainees and prisoners of war, and asked the country's president to announce the lifting of state of emergency for confidence building purposes.
He noted that the Roman Catholic Church will act to prepare South Sudan parties to the peace agreement, and reach out to non-signatory groups, for genuine dialogue in impartial forums.
In September last year, South Sudanese President Salva Kiir and several opposition leaders, including Riek Machar, signed a power-sharing deal promising an end to the conflict that killed tens of thousands of people and displaced millions.
But South Sudanese parties now face a time crunch, as the deal provides for a new unity government to assume power in May 2019 before elections three years later.