No renegotiation of South Sudan peace deal, says IGAD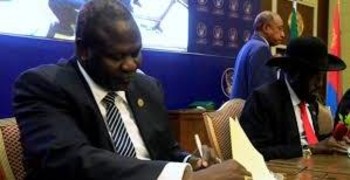 South Sudanese opposition leader Riek Machar (L) and President Salva Kiir sign a cease fire and power sharing agreement in Khartoum, Sudan August 5, 2018. Mohamed Nureldin Abdallah/Reuters
The East African bloc Intergovernmental Authority on Development (IGAD) has ruled out a renegotiation of the revitalized peace deal, stating that it recognizes the old parties as at the peace forum.
In September last year, South Sudanese President Salva Kiir and several opposition leaders, including Riek Machar, signed a peace deal promising an end to the conflict.
In an invitation letter dated 1 March and addressed to the holdout rebel leader Gen. Thomas Cirillo, the regional bloc of eight member states said any group unwilling to join the revitalized peace deal and whose activities impede its full implementation would be considered as a spoiler and held accountable.
The coalition of non-signatory groups, which demands for a federal system of governance and devolution of powers to the regions, is composed of NAS, SSNMC, NDM, and UDRA. It is led by NAS leader Thomas Cirillo.
The letter, bearing the name of IGAD special envoy for South Sudan, said any new rebel group will not be admitted into the revitalized peace deal, except through the revitalized peace framework.
IGAD stressed that any activity attributable to forces allied to a non-signatory group in South Sudan will be deemed dully authorized by the leadership of that group.
The special envoy urged the leader of the rebel group National Salvation Front (NAS), Gen. Thomas Cirillo to declare a unilateral ceasefire.
"In light of the above, I would like to invite you and your team to a meeting on 8th March 2019 in Addis Ababa, Ethiopia," Ismail wrote.
He explained that the upcoming meeting aims at discussing substantive issues regarding the possibility and modalities of NAS rejoining the revitalized peace accord and the peace process.
In November last year, the IGAD Council of Ministers directed the IGAD Special Envoy for South Sudan to reach out to any warring groups who are not signatories to the peace deal. The East African regional bloc warned that the non-signatory groups would "be categorized as spoilers of the peace process" if they reject peace.
On his part, NAS's spokesperson Suba Samuel Manase told Radio Tamazuj that they had received the invitation letter from the regional bloc IGAD.
"The leadership of the South Sudan National Democratic Alliance met and adopted a position. Our position on the letter will be released soon," he said.
"We don't want to comment on the letter now but what I can say is that the letter contains threats. I don't see any possibility of talks in the letter," he added.