Mangateen IDPs complain of lack of services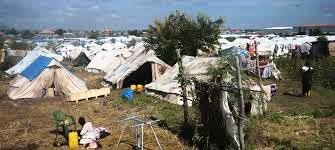 Internally displaced persons at Mangateen area in the capital Juba complained of lack of clean water since last month, a coordinator at the camp said on Wednesday.
The Mangateen site has traditionally been managed by the South Sudan Government's Relief and Rehabilitation Commission. Most of the internally displaced persons at the site were displaced by communal violence from within the UN Protection of Civilians' site (PoC) in Juba.
Speaking to Radio Tamazuj, John Tut Ulieny said the organization that was responsible for supplying the camp with water left in February.
"The displaced people in the camp do not have access to clean water after the organization stopped its activities. They are currently using pump water which is salty and unfit to drink," he said.
Tut said the displaced families also lack food.
Tut further said more than 8,000 internally displaced persons at the camp urgently need health and education services.
Since the outbreak of the civil war in 2013, over 2.2 million South Sudanese have fled into neighboring countries, while another 1.9 million remain internally displaced, according to the United Nations.