Jonglei government-owned radio off-air, citizens rely on independent media outlets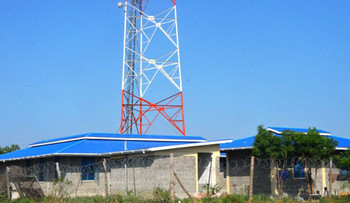 File photo: Radio Jonglei
The Jonglei state government-owned Jonglei Public Radio has been off-air since the outbreak of civil war in 2013 and may remain so, allegedly due to lack of offices, studio equipment and the transmitter.
Jonglei is a home state of the country's information minister, Michael Makuei, who confirmed that his government had blocked access to the websites of some popular independent media outlets in South Sudan.
Jonglei's information minister Jacob Akech Deng said that the government-owned FM radio station was damaged following fighting in 2013. "We have only one radio and it is a privately-owned station which is called Radio Jonglei FM-95.9. We don't have another radio in the state," he said.
The official lamented that the government-owned radio station would have now helped the people of greater Jonglei to disseminate messages of peace and national dialogue.
Akech revealed that the coverage of the existing community FM radio station in Jonglei doesn't reach a distance of 30 miles outside the town of Bor.
Akech said more people in Jonglei listen to Radio Tamazuj. "Many people listen to Radio Tamazuj and we want to make sure that Radio Tamazuj and the government reach a common ground for it to continue operating here in South Sudan in order to fully deliver the services that are needed by the public in the country," said Akec.
The official narrated that a large number of local residents in Jonglei say that Radio Tamazuj is a credible source of news from South Sudan.
The Commissioner of Bor Centre County, Deng Garang Deng, confirmed that the government-owned FM radio station has been off air for many years. He said that his people do listen to Radio Tamazuj every morning as the only source of credible news inside the country.
The Commissioner of Twic North County, Deng Mabeny, said the locals rely on an array of outlets but they rely more heavily on Radio Tamazuj which he said brings trusted South Sudanese news in the area.
Mabeny complained that they couldn't access Radio Tamazuj website due to poor internet services provided by Zain Company in Twic North County.
The Dinka Bor youth spokesperson, Ayuel Guet Rool, said the government of Jonglei state doesn't have its own radio station. "The only radio here is Radio Tamazuj and even me I do tune in to Radio Tamazuj every morning," said Ayuel.
Chuk Chuni, a representative of the conflict-displaced people sheltering inside the UN camp in Bor, criticized the blocking of Radio Tamazuj website. "We are not happy about the blocking of Radio Tamazuj website because Radio Tamazuj has now become the eyes and ears of South Sudanese wherever they are in the country," he said.
Last week, the South Sudanese government said it blocked access to the websites of Radio Tamazuj and other media outlets to protect citizens from subversive material.
Internet users said that the website of Radio Tamazuj was affected on some mobile phone and Wi-Fi networks inside the country but broadcasts on shortwave radio are unaffected.