Amadi state civil servants return after improved security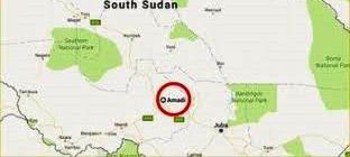 About 387 civil servants in Amadi state ministries, commissions and the organized forces returned home after the security situation improved in the state, an official said.
The state information minister, John Obote told Radio Tamazuj Wednesday that 278 civil servants and 109 organized forces returned to Amadi after security assurances from the governor coupled with improved working relations between the warring parties in the state.
"The civil servants are 278 and 109 organized forces and they are now in Amadi state headquarters. We transported them from Gbudue state and they have come to join their colleagues in the various ministries," said Obote.
He added, "We hope work and services will run smoothly in Amadi".
Obote said the security situation in the area was normal and stable.
Nearly all top technocrats recently left Amadi for neighboring Gbuduwe state following a precarious wave of insecurity in the state.
There have been reports of fighting between government troops and rebel fighters loyal to General Thomas Cirillo in Amadi and Yei River states.