1 dead, 23 injured after fight breaks out at Amiet market in Abyei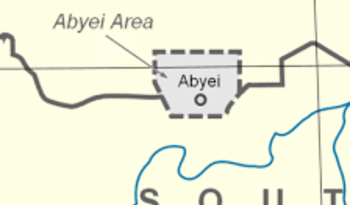 A fight between porters at Amiet common market in the area of Abyei turned deadly Wednesday, killing one person and injuring 23.
Kuol Alor Kuol, Head of the Abyei Administrative Area, told Radio Tamazuj Friday that fighting between two groups of porters, dominated by throwing of stones and spears broke out in Amiet market on Wednesday.
"The two groups of porters also used knives and sticks in the fight," he said.
Alor confirmed one person was killed and 23 others injured in the Amiet market incident. However, Kuol said the security situation was contained by UNISFA forces in the area.
The top government official said no arrests have been made so far.
Spokesperson for the UN Interim Security Force in Abyei (UNISFA) Daniel Adekera confirmed the incident.
Adekera told Radio Tamazuj in response to questions on Thursday that their troops were quickly deployed to contain the situation.
He pointed out that the wounded people were taken to Abyei hospital for treatment. "Fighting dominated by throwing of stones and spears broke out between the Nuers and Ngok Dinka in Amiet market," he explained.
Adekera revealed that one UNISFA peacekeeper was accidentally injured in the incident. "He was treated and discharged," he said.
Adekera further said investigation into the Amiet market incident was underway.