Thousands of Returnees stranded in Renk Port for more than one year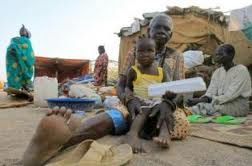 People returning to South Sudan have complained about the returns process, confirming tens of thousands of returnees have been stuck living in Renk port, Upper Nile state, for a year without proper shelter, food, and medicine.
Ms Agnes, a returnee from Central Equatoria state, told Radio Tamazuj that she has been stranded in Renk port for more than six months since the time she left Sudan. She added that the health situation is worsening and many children are getting ill due to cold weather, rain and mosquito bites.
Ms Agnes also said the authorities are not serious about providing services for the returnees from the North.
Most of the returnees are facing difficult conditions like lack of food and medicine. Some have sold their belongings to provide food and medicine for their families.
The International Organization for Migration (IOM) Representative on visit to the port said to Radio Tamazuj that IOM is planning to transport those returnees in one week's time.
He added the process will start with returnees from Upper Nile by land, noting that the arrangements are under way to complete the process as soon as possible.