Addis Ababa -
16 Feb 2012
Sudan and South Sudan fail to reach agreement in oil talks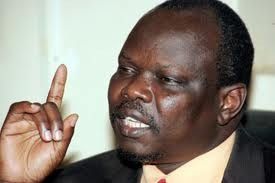 On Wednesday, negotiations on oil sharing between Sudan and South Sudan mediated by the African Union ended without reaching an agreement.
Chief negotiator for South Sudan, Pagan Amum said Juba would not sign an agreement with Khartoum unless China, India and Malaysia guaranteed to prevent Sudan from confiscating more oil in the future.
Amum said Juba was asking for Sudan to release all oil tankers seized in Port Sudan and provide outstanding payments.
Juba accuses Khartoum of seizing more than six million barrels of oil since December.
He also criticised unnamed Chinese companies for playing a role in assisting Khartoum in confiscating oil.
Meanwhile spokesman for the Sudanese Foreign Ministry, Al-Obaid Adam Marawih repeated the government's position that South Sudanese citizens will lose citizenship in Sudan from April, and noted there is slow progress in talks on trade, fees and immigration issues between the two countries.