Deng Alor: Mistrust between Kiir, Machar may hinder peace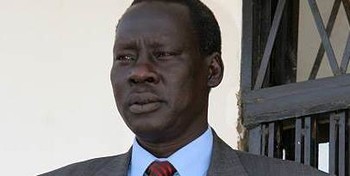 File photo: Deng Alor
South Sudan's former foreign minister said that the existing mistrust between President Salva Kiir and opposition leader Riek Machar is among other obstacles that are likely to hinder the new peace deal.
In an interview with Radio Tamazuj on Tuesday, Deng Alor Kuol, who signed the peace agreement in Khartoum said he sees the deep mistrust among leaders, especially President Kiir and his former deputy Riek Machar as the biggest hurdle to a lasting peace in the country.
"Mistrust between them was even seen at the signing ceremony of the peace agreement. It was also clear when President Kiir delivered his speech at Juba Airport. It shows there will be a big problem of mistrust between the two men," he said.
Alor, who is a leading member of the former detainees group, further said the security dossier, which sounds like the backbone of the new deal, may hinder the implementation of the revitalized peace agreement.
"The security arrangement is very important because the two men depend on military strength, so if a national army is not established to overcome those issues, we will be having a problem," he said.
"The security arrangement is key because people will not return to their areas of origin and will not come out of the UN camps and go back to their villages. So the security issue is delicate and needs trust," he added.
The South Sudanese politician urged the East African regional bloc IGAD, which is the guarantor of the new peace deal, to play a key role during the implementation phase.
"IGAD has to be with us in South Sudan during the transitional period to ensure that there is a national army and strong military institutions are established. We also need IGAD countries to be very close because there is no guarantee that the implementation will be smooth," he said.
South Sudan economy
Alor said the country's leaders need to rebuild the country and resume oil production during the transitional government to rescue the economy.
Fighting has cut oil production in half and the local currency has lost its value due to the conflict in the youngest nation.
"Also, we need to repatriate refugees and internally displaced persons, so the international community's support is needed," Deng said.