UN calls demand to register Radio Miraya 'inconsistent' with SOFA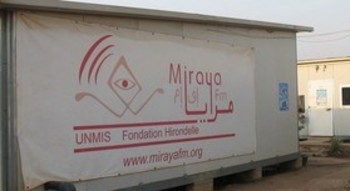 Radio Miraya, which is owned by the UN Mission in South Sudan, has not suspended its operations after the country's media regulator had ordered its closure over failure to register in the country.
On 9 March, South Sudan's media authority ordered the independent United Nations-operated radio station to stop its broadcasts for failing to comply with the country's broadcast laws.
Francesca Mold, spokeswoman for the UN in South Sudan, told Radio Tamazuj on Friday that Radio Miraya is still broadcasting despite orders to suspend operations.
"Radio Miraya is continuing to broadcast on the frequency that it was formally allocated by the Government in 2006. However, it is experiencing some intermittent interference with transmission in parts of Juba," Mold said.
Under the Status of Forces Agreement, between the United Nations and South Sudan government, the UN has the right to operate radio stations under its "exclusive control" and to convey information to the public relating to its mandate.
Mold revealed UN headquarters gave direction that the demand by South Sudan's government to register Radio Miraya is not consistent with the SOFA agreement.
However, the UN spokesperson in South Sudan said, they have exerted efforts to supply the Media Authority with technical and administration information about Radio Miraya's installations and equipment.
Mold pointed out that the UN Mission in the country also continues to negotiate with the government to resolve the issue.