Turalei commissioner inaugurates 50-feddan youth farm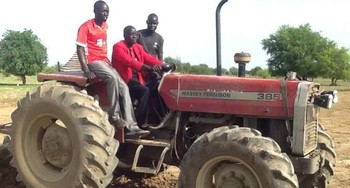 File photo: Commissioner Santo Amuol (middle) driving a tractor during the inauguration of the youth farm. (Radio Tamazuj)
The newly appointed commissioner of Turalei County in South Sudan's Twic State on Wednesday inaugurated a 50-feddan youth farm in the county.
Speaking during the inauguration ceremony, Commissioner Santo Amuol Majok pledged to support local youth in the area and urged them to initiate such projects in all nine payams of the county to fight hunger.
The local official advised all youth to refrain from harmful activities that undermine peace and stability in the county.
For his part, Turalei youth leader Madhieu Mathiang Majok said the cultivation of the new farm for youth is expected to cost 30,000 SSP.