Sudan to deliver relief to South Sudan through North Kordofan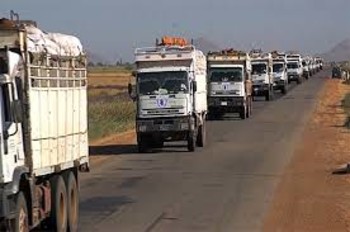 Authorities in Sudan's Northern Kordofan state Sunday said arrangements are in place to resume relief operation in South Sudan through a new route connecting the state with the neighbouring country.
In 2014, Sudan and South Sudan agreed to open a humanitarian corridor to deliver food assistance to vulnerable South Sudanese through the River Nile or by road. In January this year, the deal was extended for a six month period.
On 30 June, the World Food Programme (WFP) began providing food assistance to South Sudan using a new corridor to transport food items overland from Al Obeid to Bentiu in South Sudan's Unity state.
Sudan has opened three humanitarian corridors to deliver food assistance to South Sudan so far. In September, South Sudan Relief and Rehabilitation deputy commissioner said the government of South Sudan has promised to open an additional corridor.
Abdallah Al-Tom Al-Imam, the secretary general of North Kordofan government, said confirmed that the humanitarian aid shows the Sudanese government's commitment to assist the people of South Sudan.
Al-Tom called on the WFP to immediately start transporting the humanitarian aid through the new route.