South Sudanese refugees lack food and water in East Darfur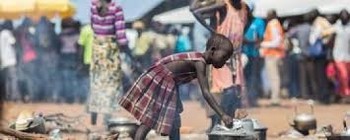 Photo: A young South Sudanese refugee cooks food at a camp in northern Uganda/UNHCR
Local authorities in Adela Locality in Sudan's East Darfur State said thousands of South Sudanese refugees in the area lack basic necessities including food and water.
Speaking to Radio Tamazuj on Wednesday, Mayen Mathiang, a South Sudanese traditional leader at Adela camp, said the situation has worsened, amid absence of humanitarian organizations in the area.
He further said there are more than 10,000 South Sudanese refugees in Adela."There is only one organization which is trying to help people here, and it has some days now it did not come. People are suffering, they don't have food and water," he said.
Mathiang pointed out that some of the refugees have resorted to cut trees to support their families.
He added that they have been trying to contact aid agencies in East Darfur to provide the much needed humanitarian assistance but their efforts have not yielded much.