South Sudan welcomes lifting of U.S. sanctions on Sudan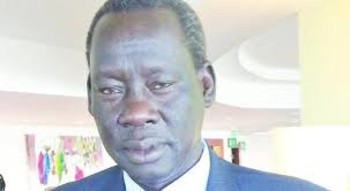 File photo: foreign minister Deng Alor Kuol
South Sudan has welcomed a U.S. decision to lift sanctions on Sudan, saying the lifting of America's 20 year-old economic sanctions against Sudan is good news for the word's youngest nation.
South Sudan's endorsement of the U.S. move came in a Tuesday statement made by its foreign ministry.
Mawien Makol Ariik, the official spokesman of the former affairs ministry in Juba, told Radio Tamazuj the economic recovery of Sudan will trickle down to South Sudan through the restoration of trade and investment opportunities between the two sisterly countries.
He pointed out that the government of South Sudan has repeatedly called on the American government to lift the economic sanction on Sudan due to the long historic ties of the two countries.
Makol believes if Sudan's economy improves, South Sudan's economy will also improve, as it will boost the flow of goods between Juba and Khartoum.