South Sudan launches its first oil and gas conference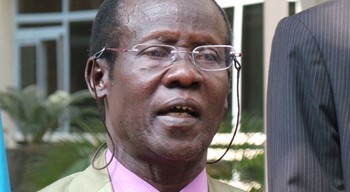 File photo: James Wani Igga
South Sudan government on Wednesday launched its first ever Oil and Power conference in Juba. The event aimed at highlighting the country's potential for energy investments for international investors.
The nation's first international oil conference was organized in collaboration with Africa Oil & Power.
Speaking during the opening address, South Sudan's Vice-President James Wani Igga explained that the last 18 months have been challenging for the oil sector due to the ongoing conflict.
"South Sudan time to shine has come. Events like this one give us the platform to understand beside our brothers and sisters in Africa and clearly announced to the world that South Sudan is emerging as a powerful nation to the world-class petroleum industry," he said.
Igga pointed out that South Sudan has enormous potentials including energy and that the time has come to make the potential a reality. He added that this year should be the beginning of growth in the energy sector.
Ezekiel Lol Gatkuoth, South Sudan's oil minister, said the main target is to explore new technologies and infrastructure for the country's oilfields.
"There are some people (investors) holding oil blocks and their shares are going up. No, we will not allow that. Come and invest or else we say bye," he said.
NJ Ayuk, Chief Executive Officer of Centurion Law Group, urged all African countries to build their potentials and carry out development projects. He added that it is time to empower South Sudanese in order to be part of every value of change in the country.
"Investment is important but investment has to be protected. We cannot welcome people in Africa if we don't create an enabling environment for them to invest…we hope that the parliament will do more to encourage them," Ayuk said.