Reactions of South Sudanese citizens on new peace deal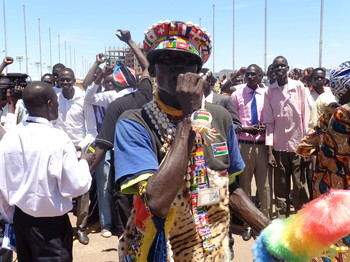 South Sudanese citizens from different parts of the country have welcomed the peace deal signed in Khartoum, while most of them call on the warring parties to ensure smooth implementation for the sake of peace in the country.
On Sunday, the government and other opposition parties signed a final peace pact ending more than four years of conflict which according to the UN has displaced more than 2 million people within and another 2 million as refugees in neighboring countries.
Residents of Bor town in Jonglei State have welcomed the signing of the power-sharing deal between the rival factions in the Sudanese capital Khartoum on Sunday night.
Ibrahim Dhieu, applauded the signing of the deal, saying it allows for peaceful coexistence among local communities in greater Jonglei.
"We hope that this agreement will be implemented, not an ink on paper. The political leaders must learn from the past. We, the South Sudanese must stand against war because with peace one can move to and from Bor, Pibor and Akobo trading without fear of avenge," he said.
Another Bor resident Panther Ateny was pessimistic that the peace would compel leaders to deliver services to the population.
"These leaders have been there since 2005. We know they will not deliver on their promises of better services. But what we want from them as South Sudanese is that they bring peace and stability in order to end the economic hardship," he said.
A driver in Tambura who identified himself as Abbas says they are yet to enjoy the dividends of the peace deal. He also said if implemented the attacks on vehicles will reduce.
"We are now in peace, people are happy about the peace in Khartoum but it has not reached to us here. We do not know anything. We have been complaining about these roads, but now we are happy that the peace can reduce the attacks on vehicles along the roads. Let those attacking people to stop. The leaders should keep to their word and not create tribal divisions," said Abbas.
Dominic Patrick, a farmer in Tambura called on the leaders to serve the nation and not tribes. He urged them to implement the agreement so that the living costs may drop.
"Our leaders should sit with each other and resolve their issues, not along tribal lines, that is not good. We need peace. They should know that the prices of goods are high, let them open the roads so that we can move and sell our food stuffs. As farmers we also want the government to provide us with agricultural tools and also help us eradicate pests that destroy our crops so that we can produce enough food for the nation," Patrick appealed.
Another resident John Balas said, "Let those who are in the bush, stop fighting and attacking people. Let them come back and we develop our country."
Stella Binia, a woman in Torit says majority of children died in road ambushes and hopes this peace will end the suffering of south Sudanese
"This road where our children and women are killed will now be safe. We want children to go to school and they should not be kidnapped. We want our brothers in the bush to come home and nobody will refuse. The home is theirs. We have come to peace and there is nothing now," Binia said.
Margret Ibwaha also in Torit expressed optimism that the peace deal will last.
"Am very happy for this peace signed and I think there is nothing we should worry about. The past is gone. We are happy for what we have seen and have heard. Now our children will stay safe and move to school without fear," she said.