Paul Malong demands Kiir's exit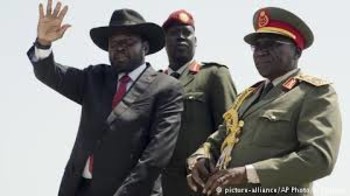 South Sudan's former army chief of staff Paul Malong Awan is not interested in a government position, but the exit of President Salva Kiir from power, according to his spokesman.
Malong's spokesman Sunday de John said in a statement dated June 8 that President Salva Kiir has failed his mandate and it was now time for him to relinquish the mantle of leadership to the people of South Sudan to decide who would be their leader.
"The best advice that should be offered to Kiir is that he relinquishes his position to give people an opportunity to get for themselves a new leader with new ideas and new direction," said Malong's spokesperson, Sunday de John.
"Tell him direct that Malong does not want a position but Kiir exit," the statement reads in part.
The opposition spokesman explained his South Sudan United Front under the leadership of the former army chief was looking for a lasting solution to the crisis, not positions to the opponents.
"Throwing positions to opponents may not necessarily solve the crisis. We need an honest conversation with ourselves where we will be able to alter the architecture of our governance structures to effectively respond to the suffering of our people," de John said.
Malong, according to his spokesman, was reacting to a letter allegedly written by chairperson of Gogrial Youth Union asking President Kiir to negotiate with Malong.
The youth group disowned the letter allegedly written to the president.