Over 5,000 displaced people return to Fashoda's Okurua County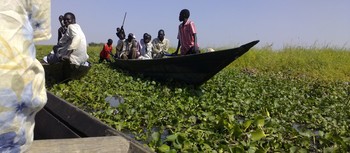 File photo: travellers crossing the Nile from Renk into Manyo County. (Radio Tamazuj)
More than 5,000 conflict-displaced people returned to Okurua County in South Sudan's Fashoda state recently, according a local official.
Speaking to Radio Tamazuj on Friday, Okurua Commissioner Commission Dugnar Agany Goc said many people who fled to Sedan's South Kordofan due violence in the area are returning to their homes.
However, the local official expressed concern about the poor humanitarian condition in the area due to lack of food and other services.
"There is no food in the area. The UN mission has promised to bring food through the World food Programme, but now nothing has come until now,"said Goc.