Machar's ex-spokesperson appears again in court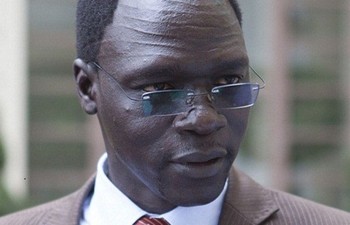 File photo: James Gatdet Dak
South Sudan rebel leader Riek Machar's former official spokesperson, who is facing charges of treason and other serious charges, appeared again in court in Juba today.
James Gatdet Dak was deported to Juba by Kenyan authorities in November 2016.
Just before his deportation to South Sudan, Gatdet had expressed his support for the removal of a Kenyan general of a United Nations peacekeeping force accused of failing to protect civilians after the outbreak of war in Juba in July last year.
A relative of Gatdet, on condition of anonymity, told Radio Tamazuj today that the last prosecution witness from Rwanda tasked to check Gatdet's Facebook account appeared in court today.
"He came and presented a document. He said they used their own technology and found that the Facebook posts were written by James Gatdet himself," he said.
"The Rwandan national said he went and verified Gatdet's Facebook account and said he was using his knowledge as an IT expert," he added.
The relative revealed that the prosecution witness Akilimali Shema is the chief inspector of cybercrime investigation unit of Rwandan police. "The prosecution witness said the documents were sent to him by South Sudan police in May 2017," he said.
The court sittings concluded today and the presiding judge will make a decision based on evidence from the parties who appeared in court.