Kiir says peace deal remains alive, again expresses reservations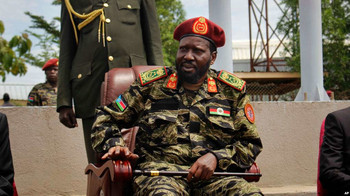 File photo: Kiir attends a ceremony marking the 34th anniversary of the SPLA in Juba, Thursday, May 18, 2017. (VOA)
South Sudan's President Salva Kiir said the 2015 peace deal signed with rebels to end his country's civil war is alive and is progressing very well, while reiterating his reservations on the agreement once again.
Speaking at a graduation ceremony for the first batch of the Joint Integrated Police (JIP) in Juba on Saturday, President Kiir said the graduation of the joint police unit shows that the peace has not collapsed.
"I am saying the peace agreement is alive and is progressing well and is very strong," said Kiir.
Kiir reaffirmed his commitment to implement the peace agreement fully though he repeated his reservations about certain parts of the deal.
"I said it before that the peace agreement I have signed is a bad agreement. Even those who designed the agreement cannot implement it, and this is why we are not able to implement this agreement all this time because it is very complicated," he said.
"Although we have not marketed ourselves to the international community about what we were doing, we are sure that we are doing correct things. We will continue to do those things, and nobody will talk to us again," he said.
Kiir urged the police to provide protection to South Sudanese citizens and ordered the joint integrated unit to shoot dead any robber they fail to apprehend in Juba.
"Your job as police is to eliminate the thieves who break into shops at night, shoot them whenever you see them trying to break into shops," he said.
The Joint Integrated Police (JIP) is mandated by the 2015 peace deal to handle security during the transitional period in some of the most fragile areas in the country.
The deal specified that the joint unit will comprise of 5,400 police personnel, with equal numbers provided by the government and the opposition.