Ireland airlifts humanitarian aid for South Sudanese refugees in Uganda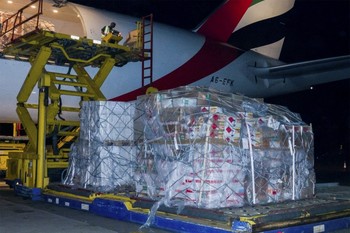 File photo: Relief items airlifted by Irish Aid arrive at Entebbe International Airport, Uganda. (UNHCR/Stephen Owani)
The government of Ireland yesterday dispatched over 100 tonnes of humanitarian supplies worth €500,000 to Uganda to help South Sudanese refugees, who have been forced to flee their homes by continuing conflict, violence and acute hunger.
The assistance includes tarpaulins for shelter, blankets, cooking sets, and mosquito nets, to Entebbe in Uganda for distribution to refugee camps hosting South Sudanese refugees.
The Irish government's programme covered the costs of two separate airlifts to Uganda, one from Dubai on 11 June and another one from Accra on 16 June.
The UN Refugee Agency, UNHCR, reportedly received the supplies at Entebbe International Airport and will distribute them to South Sudanese refugees in Uganda's districts of Arua and Lamwo.
The officials said the support comes at a critical time, with around 2,000 South Sudanese refugees arriving in Uganda daily since July 2016, when a new conflict erupted in Juba and quickly spread to other parts of the country.
"We are so grateful to the Irish people for showing solidarity with refugees," says Bornwell Kantande, UNHCR Representative in Uganda.
"Such display of generosity clearly signals that Ireland stands with Uganda and the communities who have opened their doors and hearts to men, women and children fleeing conflict and violence in their home countries," he added.
South Sudan has been embroiled in a civil conflict since December 2013 with refugees escaping to neighbouring countries.