Friends, colleagues call for release of entrepreneur Kerbino Wol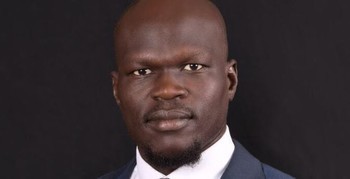 Photo: Kerbino Wol
Friends and colleagues of detained entrepreneur and philanthropist Kerbino Wol, called his arrest "an injustice" and demanded his immediate release.
Kerbino Wol, the Chief Executive Officer of KASS Security Company and Executive Director of Nile Foundation in Juba, was arrested by National Security agents in May.
Speaking to Radio Tamazuj on Thursday, Kerbino's colleagues and friends called on the government to release the prominent entrepreneur who has been held in the NSS custody without charge or investigation for nearly four month.
"We are deeply troubled that no one has been allowed to speak or visit him at National Security headquarters," said one of his friends.
They pointed out that Kerbino is still is being held at the National Security Service compound known as "Blue House" and that the family is not allowed to visit him.
"We are worried because we do not know anything about his health condition in detention," one of his colleagues said.
"He is safe in the custody but the reason for his arrest is unknown. Kerbino is a good man who does not have any differences with people. He has no links with the opposition," he added.
Kerbino, who is a South Sudanese philanthropist, was reportedly accused of having links with the opposition.