Dhieu thanks Kiir for 'opportunity' to serve in his govt over the past 10 years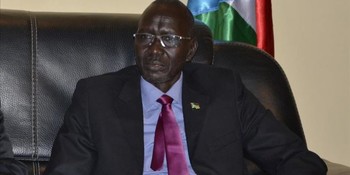 File photo: Stephen Dhieu
South Sudan's ousted finance minister Stephen Dhieu Dau on Thursday thanked President Salva Kiir for the chance to serve in his administration during the past 10 years.
Kiir sacked Dau without explanation on Monday and replaced him with Salvatore Garang Mabiordit Wol as the new minister of finance.
"Forever, I will remain indebted to H.E Salva Kiir Mayardit, President of the Republic of South Sudan for the confidence, opportunity and support he has given to me over the past ten years of my tenures," Dhieu said.
He also congratulated his successor Salvatore Garang for his appointment by Kiir as the new minister of finance, saying the new minister has been a dedicated servant to the government and people of South Sudan.
The former official also thanked the current cabinet for supporting him in numerous ways when he was still in the government.
Stephen Dhieu had served in the Kiir administration as the minister of finance in the defunct Upper Nile state, national minister of petroleum, and national minister of trade before being moved to the finance docket in July 2016.